Draw-Bar Frame
Due to unprecedented supply chain issues, we have discontinued the use of our price lists. Please call for quotes. We have left the price lists up for reference only.
Draw-Bar Frame Description and Price List

Click Here to Download Price List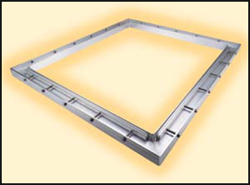 The legendary Diamond Chase Draw-Bar frame has been an industry standard for decades. It is undoubtedly the most precise self-stretching re-tensionable screen frame on the market, designed for the closest tolerance and tightest registration applications. Mesh tension can be adjusted on each frame side with bolts spaced every six inches (custom spacing also available). By far the best frame on the market for graphic printing.
Description:
The Draw-Bar Frame system is a U-shaped channel with an enclosed fabric locking bar that is drawn outward with numerous bolts to tension and adjust the screen printing fabric. The Draw-Bars are manufactured for maximum flexibility and strength to achieve perfect screen tensions throughout the image area. The ease of the locking systems allow for excellent fabric installation and alignment. The ability to adjust on-press mis-registration within the frame itself makes it the most accurate system available.
Features and Benefits:
Retensionable for extended fabric life
Manufactured to custom specifications
+/- 1 N/cm accuracy in tensioning
On press micro-registration capabilities
Fully welded, guaranteed watertight for life
Frame guaranteed for life against workmanship defects
Replacement parts/rebuilds available
Stainless steel hardware

Hex Head – recommended as the standard for its durability
Allen Head – uses an allen key or allen socket for tensioning (limited availability)
Recessed Allen – bolt head is flush with the frame so it does not increase the size of the frame

Variety of models to choose from for each application and/or press
Choice of Locking Systems

Keystone – Single tapered nylon rod slides through end of Draw-Bar, recommended for wire mesh and frames with narrow profiles because of its pre-tensioning ability.
Top Loading – 2 round rods are snapped into the top of the Draw-Bar with the assistance of a wheel insertion tool, allowing the fabric to be secured simply and evenly. Available in 3 color coded sizes to accomodate all mesh counts.
Optional – Detachable Glue-on Draw-Bars with replacement glue strips